Naturally Timeless.
Made By Hand. Shaped By You 
Durable Vegetable Tanned Leather
Shapes Over Time
Lasting Comfort & Breathability
Extended 10-Year Guarantee
Handcrafted Since 1866

Durable Vegetable Tanned Leather
Only the finest premium vegetable tanned leather for strength, beauty and durability.

Extended 10-Year Guarantee
The Brooks extended 10-year guarantee on all our leather saddles is founded on the quality and consistency of materials and the exceptional work of our craftspeople.

Handcrafted Since 1866
Our workshops have been crafting Brooks iconic leather saddles for more than 150 years.

Lasting Comfort & Breathability
Leather is a naturally breathable material that provides a unique type of well-being. The leather top is suspended over the saddle rail to create a suspended moulded seat, similar to a hammock, for tailored lasting comfort.

Shapes Over Time
Journey after journey, our leather naturally moulds to the unique shape of the rider for a more comfortable ride.
TECHNICAL SPECS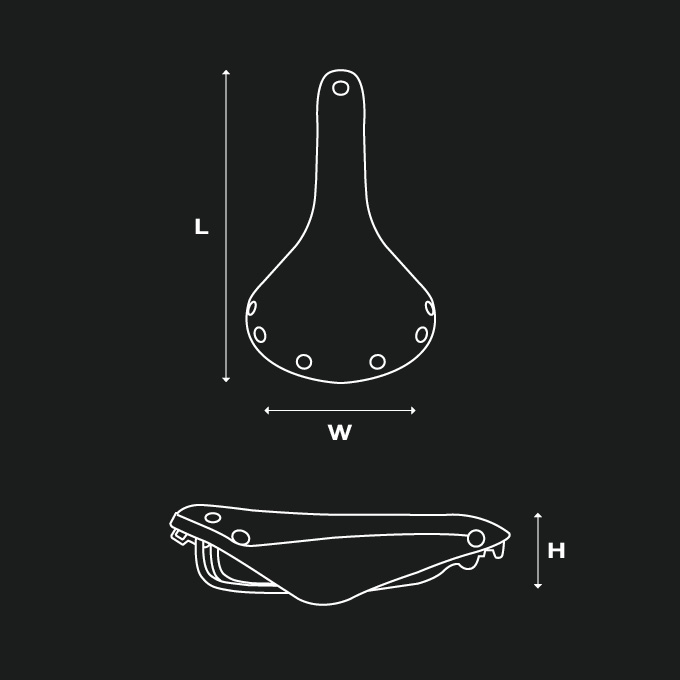 L 275 x W 175 x H 65
Weight: 520 g
MATERIALS

Vegetable tanned leather top
FEATURES
Central cut-out for pressure relief
Laced saddle flaps added tension
Durable, 5mm thick, Vegetable Tanned Leather
Distinctive side stamp
Iconic Brooks backplate
Tubular steel rivets 
IDEAL FOR
Cycling in the city
Travelling the globe
Gravel & Bikepacking
Road cycling
RIDING POSITION
Angled riding position
For riders in search of pressure relief, the B17 Carved features a "registered cutting" which first appeared with Brooks saddles in the 1890s. Still providing relief today, the B17 Carved is made from vegetable tanned leather that will age beautifully over time. Additionally, laced saddle flaps allow for increased tension and preserve the saddle's shape. A more flexible saddle than the standard B17, this comfortable saddle is finished with steel rivets and a steel undercarriage.
Maintaining your Saddle will ensure that it becomes comfortable and durable. Proofide is the ONLY substance that should be used to care for your leather saddle. Carefully formulated from special ingredients to condition, preserve and showerproof, helping protect the leather supple and to keep it supple. With regular use, your saddle will adapt to your body and retain its beauty, comfort and support. A new saddle should be treated at least once to help to assist the 'breaking-in' process and protect the saddle against the elements. Never apply Proofide to a wet saddle. Apply a small amount of Proofide to the finished top side of the leather, allowing it to permeate until dry. Polish off completely with a soft cloth to avoid getting any residual Proofide on your clothes. Also apply Proofide to the underside of the saddle. Leave this coating on to protect against dirt and moisture. Proofide may be used several times during the 'breaking-in' period and periodically thereafter. Do not overuse. After the break-in period, it is normal and proper to tension the saddle to retain its shape and comfort. To tension the leather top, turn the nose bolt nut clockwise, 90° at a time, checking after each turn until the desired tension is reached. You can use this tension spanner or an Allen key.