The Chrono is outright our fastest wheelset in the lineup. Ideal for a 25mm tyre, the Chrono is built to maximise both speed and stability. Couple that with being aerodynamically optimised and you have a wheelset that will redefine your perception of speed, ideal for triathletes and time trial racers.

How fast is fast? With the Chrono you are sure to find out. The fastest wheelset in our lineup, the Chrono is built for both speed and stability. As a result, it is the ideal wheelset for triathletes and time trial riders who are not afraid to push their limits to deliver results.
The 77mm front wheel is designed to enhance handling and is incredibly stable for a wheel with a deep section rim profile. In the wind tunnel, the wheel maintains class-leading aerodynamics and reduces crosswind side forces by over 15% versus our older model. Paired with an 86mm rear, you will quickly be able to discover just how fast you can go. With gains like this, it's easy to see why triathletes and time triallists love this wheelset.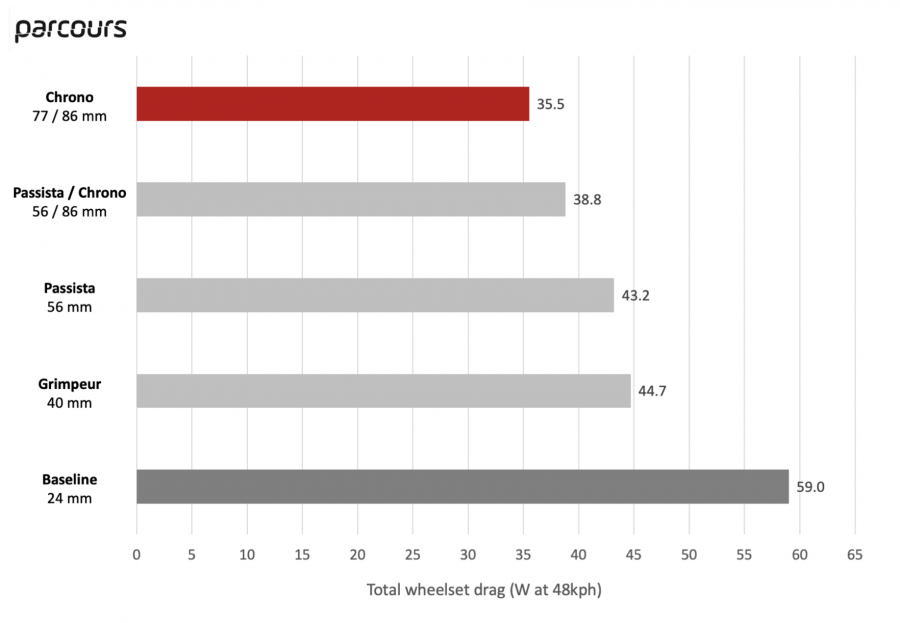 The updated textured braking surface uses an industry-standard high TG resin to ensure that braking performance remains consistent and predictable at all times. Meanwhile the all new precision-machined alloy hubs are fitted with high-grade EZO cartridge bearings to deliver smooth running in all conditions.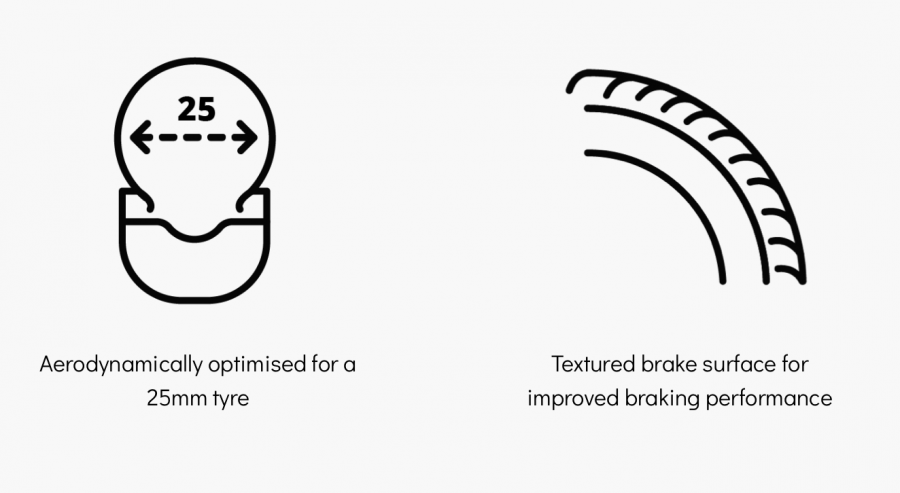 "Look, feel and sound fast. Another winning wheelset from the British brand" - Triathlon Best Buy
In the box:-
Wheelset
Parcours carbon specific brake pads
Parcours quick release skewer set
Rim tape fitted
Freehub spacer for 8/9/10 speed cassettes
User guide
Compatibility:-
Freehub: Shimano/SRAM 11-speed
If you require a Campagnolo or SRAM XDR freehub, it can be ordered separately as an accessory
Technical Specifications:-
Model: Chrono
Rim depth: 77mm (front) / 86mm (rear)
Max rim width: 29.5mm (front) / 29.0mm (rear)
Internal rim width: 20mm (front) / 19mm (rear)
Weight: 1,625g (725g front / 900g rear)
Spokes: Sapim CX-Ray (18 front / 24 rear)
Lacing pattern: Radial (front/read DS) / 2-cross (rear NDS)
Hubs: Parcours Rim Straight-pull
Size: 700c
Aerodynamics
Aerodynamics is at the heart of what we do at Parcours. We have spent countless hours over multiple sessions in the wind tunnel to provide the level of data that you as the rider need to make an informed decision. We strive to be completely transparent with all our development and testing, whilst keeping things accessible to all our riders.
Braking Performance
As with our aero testing, it's important to take into account real-world riding conditions. Parcours wheels have been tested across all terrain, ranging from short, sharp Lake District downhills in the rain to long, sweeping Alpine descents in summer heat. Each time they performed admirably, with no unpleasant surprises or issues.
Braking Tips
So what does all the testing tell us, particularly about braking on Parcours wheels? Ultimately, our goal is to keep the rim temperature down, meaning we steer well clear of the critical glass transition temperature. To do this, you can employ a number of techniques:
Most importantly, don't drag your brakes all the way down a descent. Starting with smaller, controlled downhills, build up your confidence to release the brakes and fully enjoy the feeling that you've earned on the uphill
nstead, use a brake/release method, often referred to as "pumping" your brakes. Even a short release allows the rim to cool significantly
Alternatively, you can alternate between your front and rear brake when looking to reduce speed
Ensure that your brake pads are "toed in" so that the front of each pad contacts the wheel when the brakes are applied. This will help to reduce any juddering feel under braking, as well as any brake noise
Make sure to regularly inspect your brake pads and clean away any debris. Note that your rims may become slightly discoloured from brake pad residue. This is completely harmless
Maximum Tyre Pressure
| Tyre Size | Tubeless | Clincher (W/Tube) |
| --- | --- | --- |
| 23mm | 90 psi | 130 psi |
| 25mm | 85 psi | 130 psi |
| 28mm | 80 psi | 110 psi |
| >28mm | 70 psi | 100 psi |
Note: for road use we recommend a 23mm or 25mm tyre, up to a 28mm tyre for the Strade
Please note that carbon brake tracks are designed to be durable and long-lasting. If well- maintained and cared for, you should expect many happy years of use before the rims need replacing. However, brake track wear will be accelerated in wet weather, when all sorts of nasty grit and dirt finds its way between the brake track and brake pad. It's worth giving the brake pads a good clean after a wet ride. The finish on the brake tracks will change over time – this is perfectly normal and not a cause for concern.
Weight Limit
There isn't a hard and fast max weight that we'd rate the wheels at as it's largely dependent on the sort of riding you're doing. As you can imagine, a heavier rider on a smooth road isn't directly comparable to a heavier rider on rough roads.
Saying that, with an 18 spoke front / 24 spoke rear lacing pattern (24/24 for our disc brake wheelsets), if you're over 90-95kg then we'd suggest looking at increasing the spoke count to make the wheel a little more robust. Get in touch to discuss the custom build options available.
Warranty
It's important to us that you feel confident in your purchase, which is why we offer a full 2 year manufacturer's warranty on all Parcours wheels. This covers any manufacturing or workmanship defects. If you have an issue, simply get in touch and we will arrange shipping back to us where individual parts will be replaced or repaired as required.
This warranty is only valid for the original purchaser and does not include any third parties. Original proof of purchase may be required.
This warranty does not cover:
Normal wear and tear, including cosmetic
Crash damage (see our separate crash replacement offer below)
Products which have been incorrectly installed and/or adjusted
 Furthermore, this warranty will be invalidated if:
The product is used outside of normal usage or is damaged by rider error
The product is modified in any way
Tyre pressure exceeds limits laid out below
Non-carbon specific brake pads are used (with the exception of Paniagua alloy rims) 
Crash Replacement
If the worst happens and you find yourself anything but rubber-side down, we want to help you get back on your bike as quickly as possible. If your wheels are damaged in a crash, we will offer :
A substantial discount on any replacement rims
Wholesale pricing on any other replacement parts
A word of encouragement to get going again, along with a touch of sympathy. We've all been there!