Dynamic Slick Wax (100ml)
Slick Wax is a very durable and sophisticated chain lubricant. Carefree chain grooming is made simple with this biodegradable, planet friendly, wax-based lube. It protects your chain against corrosion, dirt and wear, makes it run smoother and quieter than ever whilst keeping your drivetrain dry and clean.
Oily chains are a thing of the past when you start using Slick Wax. Simply apply to a clean, dry chain and you will hardly ever have to degrease your chain again. Just reapply when necessary and remove any dirt or excess wax with a cloth or brush.
Suitable for all weather conditions and for all cycling disciplines. Whether it is your road bike, MTB, gravel or e-bike; you'll only need 1 product to do the job. Using Slick Wax will extend the life of your drive train by up to 40% and it will #lastlonger on your chain than other chain waxes.

First application: Clean your chain and drivetrain really well, rinse with water afterwards to make sure there is no residue of the chain cleaner left. Let the chain, cassette and crankset dry out completely. Shake the bottle vigorously and apply 1 drop of Slick Wax on the inside and outside of every single chain link. Wait for 2-3 hours and apply a second drop to the inside and outside of every single chain link. Make sure to wait 2-3 hours before riding to get the best result. Remove excess wax with a brush or cloth if needed.
Reapplication: Run the chain through a cloth to remove any dirt or wax residue, you can also use a brush to remove residues from your cassette or pulley wheels. Apply 1 drop of Slick Wax to the inside and outside of every single chain link. For the best results, we advise to wait 2-3 hours before riding.
Features:
Contents: 100ml
Packaging: Bottle
Water Resistance: High
Corrosion Protection: Very High
Viscosity 20 Deg.C: Medium
Friction Coefficient: Low
Biodegradable: Yes
Suitable for: Bicycle Chains
Sizing Information
Size - 100ml
Country of Origin - Germany
The difference between Speed Potion Wax and Slick Wax
At Dynamic we have 2 wax-based chain lubricants in our range: Speed Potion Wax and Slick Wax. What are the differences and when should I use which one? Why does one cost roughly 3 times as much as the other?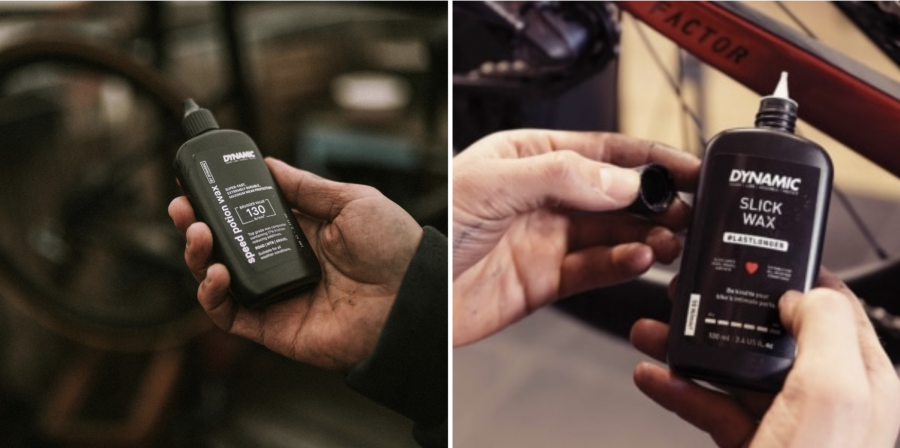 This is what we were focusing on when Speed Potion Wax and Slick Wax were designed:
Speed Potion Wax:
Maximize drive train efficiency under pressure and in all conditions.
Developed on request of Team Jumbo-Visma, focused on top notch performance.
Developed without taking any cost factors into consideration.
Developed without taking any cosmetic factors like noise reduction or color into consideration.
Slick Wax:
Maximize lubrication and protection, minimize effort.
Extend drive train life and strongly protect against corrosion.
Minimize drive train noise.
Easy application and maintenance.
Maximize durability.
Slick Wax is your 'go-to' product for every ride. Speed Potion Wax is what we recommend to use on race day or when performance is key.