AIM TO THE TOP
The feeling, from the first time you wear the Rebel 3, is of a complete wrapping of the foot. That makes the shoe comfortable and, at the same time, extremely versatile and performing on any type of terrain. The secret is the unibody construction of the upper, developed on the anatomy of the foot with the aim of becoming one only thing with the foot, the shoe and the pedal. You can feel the results since the first rides: the control of the foot during a down the hill rides is excellent and the comfort, even after many hours of use, is amazing.
Features:
Carbon XC 12 Sole with full-carbon insert in the pedal area and a stiffness index of 12.0.
TPU inserts in strategic points ensure high traction and outstanding wear resistance
The BioMap unibody construction upper has a more anatomical, wraparound design that minimizes energy loss to the pedals
TPU thermowelded reinforcements for added protection
Double SLW3 dial, the only dial with step-by-step and full release in a single button for optimal pressure distribution
Performance Regular footbed provides greater support
Sole Overview : Carbon XC 12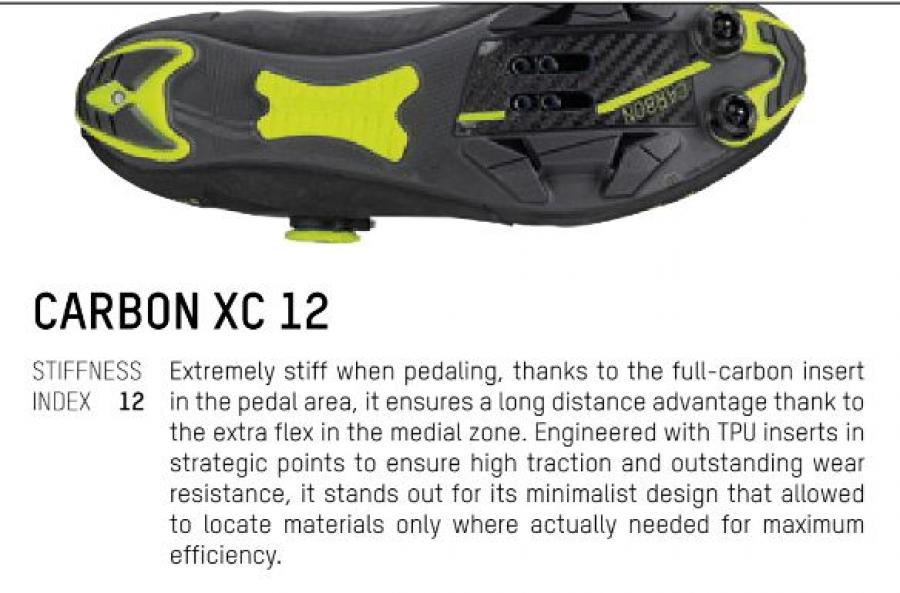 Sizing Information
Please use Cm chart to select perfect size for you. Add a margin of 0.5~1.0 cm extra in length and you can get the best size fit.
| EUR | UK | US Men | US Women | Cm |
| --- | --- | --- | --- | --- |
| 34 | 2 | 3 | 5 | 22 |
| 35 | 2,75 | 3,75 | 5,5 | 22,5 |
| 36 | 3,5 | 4,5 | 6 | 23 |
| 37 | 4,5 | 5,5 | 6,5 | 24 |
| 38 | 5,5 | 6,5 | 7,5 | 24,5 |
| 39 | 6 | 7 | 8 | 25 |
| 39,5 | 6,25 | 7,25 | 8,25 | 25,7 |
| 40 | 6,5 | 7,5 | 8,5 | 26 |
| 40,5 | 7 | 8 | 9 | 26,3 |
| 41 | 7,5 | 8,5 | 9,5 | 26,6 |
| 41,5 | 8 | 9 | 10 | 27 |
| 42 | 8,5 | 9,5 | 10,5 | 27,3 |
| 42,5 | 9 | 10 | 11 | 27,6 |
| 43 | 9,5 | 10,5 | 11,5 | 27,8 |
| 43,5 | 9,75 | 10,75 | 11,75 | 28,5 |
| 44 | 10 | 11 | 12 | 28,6 |
| 44,5 | 10,5 | 11,5 | 12,5 | 29 |
| 45 | 11 | 12 | 13 | 29,3 |
| 45,5 | 11,5 | 12,5 | 13,5 | 29,6 |
| 46 | 12 | 13 | 14 | 30 |
| 47 | 12,5 | 13,5 | 14,5 | 30,5 |
| 48 | 13 | 14 | 15 | 31,4 |
| 49 | 13,5 | 14,5 | 15,5 | 31,8 |
| 50 | 14 | 15 | 16 | 32,3 |