The Northwave Lab designers know this quite well, reproducing the historic Tribute model with renewed style and functionality. The Morph Carbon sole with a carbon insert in the pedal area ensures the maximum transmission of power to the pedals. The Anatomical Arch Support® in TPU gives the arch a support point. The unibody ultra-light microfibre upper ensures a super comfortable, seamless fit. The two Velcro straps have been improved to offer an even more performing shoe, reducing the time needed to change shoes (swimming-bike, bike-running).
Features:
Morph Carbon 12 AAS sole with full-carbon insert in the pedal area with a stiffness index of 12.0.
Exclusive Anatomical Arch Support® made of TPU, allows the shoe to perfectly shape on the bow arch, making it the ideal sole for any type of foot
Speedplay adapter compatible for the shortest distance between pedal and foot
Biomap unibody upper made of ultralight microfiber specific for triathlon
2 straps with upper velcro for side locking
Weight - 289gm
Stiffness Index-12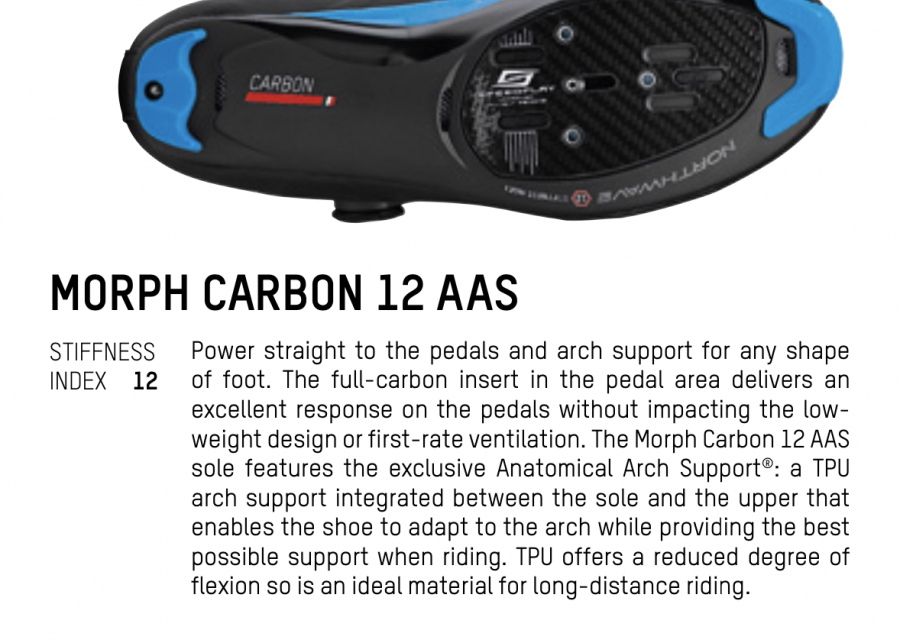 Sizing Information
Please use Cm chart to select perfect size for you. Add a margin of 0.5~1.0 cm extra in length and you can get the best size fit.
| EUR | UK | US Men | US Women | Cm |
| --- | --- | --- | --- | --- |
| 34 | 2 | 3 | 5 | 22 |
| 35 | 2,75 | 3,75 | 5,5 | 22,5 |
| 36 | 3,5 | 4,5 | 6 | 23 |
| 37 | 4,5 | 5,5 | 6,5 | 24 |
| 38 | 5,5 | 6,5 | 7,5 | 24,5 |
| 39 | 6 | 7 | 8 | 25 |
| 39,5 | 6,25 | 7,25 | 8,25 | 25,7 |
| 40 | 6,5 | 7,5 | 8,5 | 26 |
| 40,5 | 7 | 8 | 9 | 26,3 |
| 41 | 7,5 | 8,5 | 9,5 | 26,6 |
| 41,5 | 8 | 9 | 10 | 27 |
| 42 | 8,5 | 9,5 | 10,5 | 27,3 |
| 42,5 | 9 | 10 | 11 | 27,6 |
| 43 | 9,5 | 10,5 | 11,5 | 27,8 |
| 43,5 | 9,75 | 10,75 | 11,75 | 28,5 |
| 44 | 10 | 11 | 12 | 28,6 |
| 44,5 | 10,5 | 11,5 | 12,5 | 29 |
| 45 | 11 | 12 | 13 | 29,3 |
| 45,5 | 11,5 | 12,5 | 13,5 | 29,6 |
| 46 | 12 | 13 | 14 | 30 |
| 47 | 12,5 | 13,5 | 14,5 | 30,5 |
| 48 | 13 | 14 | 15 | 31,4 |
| 49 | 13,5 | 14,5 | 15,5 | 31,8 |
| 50 | 14 | 15 | 16 | 32,3 |